A lot of people find bliss in gathering their own collection of favorite things in the whole wide world. These passions can range from stickers, stamps, and random knick-knacks. There are a lot of investments placed to afford and maintain a vast collection of these things.
Not surprisingly, famous people are also not immune to the charms of this type of indulgence. When you have enough money to burn why not spend it all on a hobby? All their hard work, busy schedules, and time in the limelight will be worth it after reaping what they sow. These celebrities can put a room or even a whole property devoted to all their favorite collections. The items they own are safely placed in swanky storage areas. It seems like they're making room for an expansion of these objects and we can't blame them for it. This is a rundown of some of the most jaw-dropping, outrageously cool, and broad collections owned by famous folks. Their appreciation for their prized possessions is made even more obvious with their extensive range of items.
Tom Hanks' Typewriters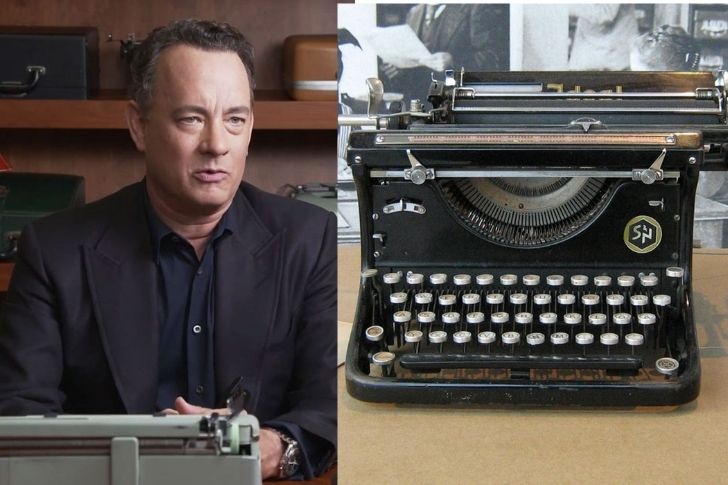 Forrest Gump
 star Tom Hanks is very vocal about his collection of typewriters. He revealed that he's been collecting these writing machines since he was only a teenager. He believes that they are a brilliant combination of engineering and fine art. Hanks also likes that each writing produced is one-of-a-kind.
Growing up, typewriters were a way for him to remain grounded while he welcomed various transitions in his life since he constantly had to move around from place to place. He uses his typewriters to write notes to his loved ones and even costars in projects he is involved with. The Hollywood icon gives credit to his favorite machine for making him feel relaxed.
Phil Collins' Alamo Memorabilia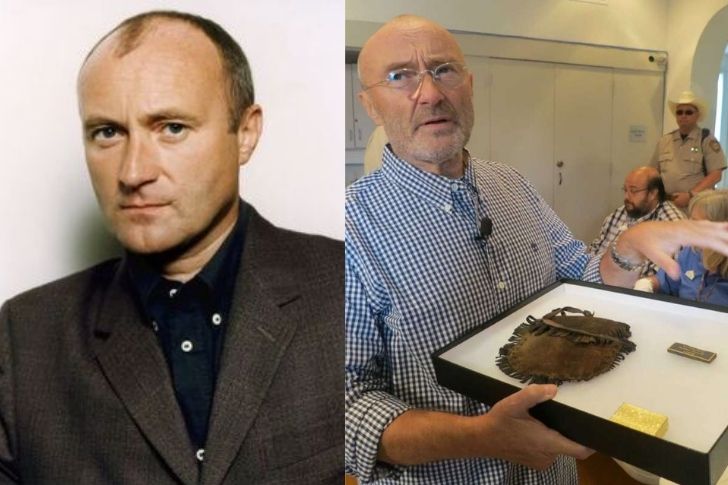 British music icon Phil Collins has a deep fascination for the Alamo. When Phil was growing up in the suburbs of London, he developed a deep liking for Walt Disney's Davy Crockett, King of the Wild Frontier. While he was still learning his way around playing the drums, the budding musician also played with his toy soldiers to have his own Battle of the Alamo in his garden.
Collins' grandma was also supportive of her grandson's favorite game and prepared a makeshift coonskin cap made from fur coat cutouts worn by the actors in the famous TV program. The award-winning musician consumed books that talked about the Alamo. When he was already in his prime, he found out that these relics were ready for collecting. His wife is given credit for starting his private collection when she gave him a saddle from the Alamo.
Janet Jackson's Porcelain Pigs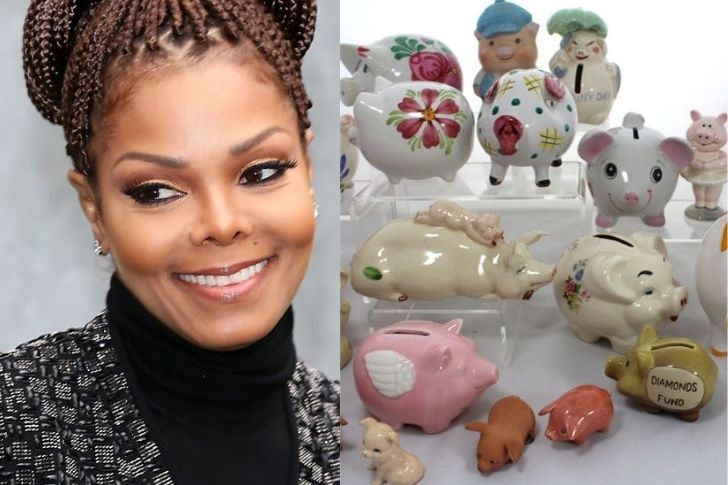 Recording artist Janet Jackson was looking for a hobby so she decided to have a porcelain pig collection. The soulful siren also seemed to wonder why she decided on starting this collection. As people kept giving her porcelain pigs as presents, she lost her interest in these pieces. She realized that she didn't know what to do with all of them so she eventually gave them all up.
At one point, her home was covered with so much pig memorabilia – there were more than a hundred of these pigs around her abode. Jackson revealed that she started making an investment in these types of pieces to fill out her time while taking a break from music and did not expect it to become so out of hand.
Kiefer Sutherland's Guitars

24 star Kiefer Sutherland has an expensive and vast collection of approximately forty Gibson guitars. The award winner shared that he signed up for violin lessons when he was a young boy. It was during this time the actor was given his first-ever guitar by his mother.
The Lost Boys actor never looked back since then. He believes that these musical instruments were beautiful works of art. Sutherland's collection even accumulated to a number of hundreds. Reports revealed that he has decreased his investments in collecting these stringed instruments since he was unable to play the old pieces in his collection.
Angelina Jolie's Knives

The gorgeous Angelina Jolie is one of the most celebrated and admired actresses on the planet. She is considered one of Hollywood's most beloved leading ladies. She played various roles in films so it was only natural for her to be acquainted with various types of weapons while on set, but her interest in knives actually began when she was younger.
Jolie was captivated by the beauty of the daggers, so she started collecting knives as a preteen. Now as an established actress with a vast amount of fortune, it's easier for her to make investments in her collection. Jolie recalls that she finds beauty in the tradition involved while making daggers. Her impressive collection includes specialty blades from all around the world.
Neil Young's Toy Trains

As a way to bond with his son who is diagnosed with cerebral palsy, music icon Neil Young owns a collection of trains. Since it has a wide layout, he placed it in his California ranch. The musician also crafted a remote control for his collection so that multiple trains can run at once. To get the most out of this charming hobby for his son, the device also produces realistic audio from railroads.
In interviews, the musician reveals that collecting these model trains can be very relaxing. He later on auctioned this collection and revealed that the items have been a great source of joy for him. Young gives credit to this hobby for also inspiring him to be more creative and adding excitement to his life.
Amanda Seyfried's Taxidermied Animals

Les Miserables star Amanda Seyfried was presented with a stuffed miniature zebra by director Seth MacFarlane because she is super into taxidermied animals. She collects them as a hobby and buys most of these pieces from a taxidermy store located in France. On top of the mini zebra given by Seth MacFarlane, Seyfried also has a baby horse, which was revealed to be the most expensive and biggest investment in her collection.
How big is it? It is almost two times larger than her dog, Finn. Seyfried also gives names to her taxidermy figures; her preserved horses are named Antoine and Kevin Sparkle. Out of all her stuffed pals, she revealed that her favorite is a stuffed deer whose name is Sha' Dynasty.
Reese Witherspoon's Antique Linens

Known to be one of the warmest and homey angelic figures in Hollywood, Reese Witherspoon's collection of antique linens isn't shocking at all. The actress appreciates a good home essential when she sees it. Her deep appreciation for homemaking has led her to collect these specific types of linens along with vintage and ornate embroidery.
She also grew up surrounded by antiques in New Orleans, so the Legally Blonde star started collecting these gorgeous antique linen as a way to remember her hometown, This is definitely something Reese is into and we're totally here for it. She is everyone's favorite ray of sunshine, after all. This hobby also describes her personality and adds more electricity to her lovable appeal.
 Johnny Depp's Barbie Dolls

Johnny Depp started collecting Barbie dolls for his daughter. But when she became older, she eventually stopped playing with these dolls. Instead of discarding them, the Pirates of the Caribbean star decided to keep them as a collection. It was also a worthy investment since he developed some of his movie characters when he practiced using different voices for these dolls.
The actor hasn't revealed how many items are in his collection, but reports have mentioned that Depp owns a number of limited-edition Barbie dolls. It is also not just Barbies as Johnny's collection includes Marie and Donny Osmond, Elvis Presley, the cast of High School Musical, and even the members of the girl group Destiny's Child
Scott Hamilton's Pinball Collection

World champion figure skater Scott Hamilton is an avid collector of memorabilia around the world. The Olympian keeps some objects from his figure skating career, but that's not all that he collects. He also has a prominent pinball machine collection, which he displays in his pad. Another collection he has is of autographed guitars from famous rock and roll figures like Bruce Springsteen and the Eagles.
But these items are not just for his hobby as most of them were acquired for the benefit of various charities including his own Scott Hamilton CARES Foundation. Though most of the gold medal champion's collections aren't even related to skating, you will still find his iconic skating suits displayed at his home
Whoopi Goldberg's Footwear

Whoopi Goldberg seems to put most of her investments in attaining a vast shoe collection. By just merely glancing at her social media posts, you can figure out that Goldberg is a real shoe aficionado. Her eclectic style is apparent in the designs of her shoes that go from fancy to quirky. Each piece makes a statement and can really captivate onlookers.
The materials used to make her shoes are also very unique and were mostly even derived from Goldberg's creative imagination. This lady is not afraid to express her personal style from head to toe. From utility boots to high heels, you name it, Whoopi has it all. Her collection really reflects her vibrant and colorful personality
Nicole Kidman's Coins

Australian star Nicole Kidman is an avid coin collector! The actress and producer is recognized for her awesome work in Hollywood. She received numerous awards from Primetime Emmy Awards, Academy Awards, and Golden Globe Awards. This beauty definitely has a penchant for all things shiny.
Her vast collection mostly consists of ancient Judean coins. The Eyes Wide Shut star focuses more on this heavily curated collection since her coins are reportedly from the fourth century B.C.E. We can give her credit for being such a good actress and ace coin collector. Her critically-acclaimed projects sure have given her a good budget to put investments in this expensive hobby. Her classic collection must be a great stress reliever for this hardworking actress.
Guillermo Del Toro's Horror Memorabilia

Pacific Rim director Guillermo Del Toro continually gives viewers an amazing time by featuring a realistic haunted house in Crimson Peak so it's pretty safe to assume that the man has a knack for all things scary. He recently decided to curate his quirky collection of random and eccentric items and named this home museum the Bleak House.
It even has a realistic-sized figure of literary genius Edgar Allan Poe and a commissioned copy of the bed featured in a Pirates of the Caribbean ride from Disneyland. The Mexican director gives credit to his mother for his penchant for horror memorabilia. Growing up as a little boy in Guadalajara, young Guillermo also kept his comic books in drawers while his books and action figures were displayed on the shelves.
Swizz Beatz' Art Collection

The hip-hop record producer Kasseem "Swizz Beatz" Dean and his wife, Grammy-award winning R&B singer Alicia Keys are wealthy enough to keep what is known as the Dean Collection. The pair committed themselves to provide aid in building a community to protect artists they earnestly support. As an avid art collector Dean was able to acquire a Marshall painting from a very close colleague and friend.
It took him almost a decade to get a hold of the pricey piece. The artistic couple currently resides in Englewood, New Jersey where they have few works displayed on their walls since the collection is spread widely. They definitely made big investments to maintain this vast and expensive collection. Some of the pieces can be even seen in exhibitions and various private sites.
Rod Stewart's Model Trains

Music legend Rod Stewart is passionate about model trains. While making music and performing live, Stewart has been dedicating a hefty amount of time for him to work on a gigantic and intricate model of a US city for more than two decades already. The singer revealed that he does most of the work himself except with matters that involve electricity as he hired someone else to do it for him.
The Grammy winner was very hands-on in building the skyscrapers and various sceneries while on tour. He even requested having an extra room for some of the constructions in the model. His model features detailed buildings with ships, bridges, and even lush vegetation. While building his massive model city, Stewart was able to 13 studio albums and went on more than 10 tours. The musician doesn't really mind that people find his hobby silly since he enjoys doing it.
Leonardo DiCaprio's Action Figures

Actor, producer, and environmentalist Leonardo DiCaprio makes investments in his time for gathering a vast collection of action figures. The Hollywood icon maintains a huge collection of collectibles and action figures from E.T, He-Man, 2001: A Space Odyssey, Star Wars, and Planet of the Apes.
While DiCaprio pays no expense when it comes to splurging on his extensive collection, he often auctions off vintage items from his collection to fund donations for charity to the Leonardo DiCaprio Foundation. It is certainly reassuring to know that he gives back. Whenever he does join auctions, his items truly stand out as he makes sure that each of his figures is in tiptop shape. These figures are in such pristine condition that they still have their original tags intact, too.
John Lennon's Stamp Collection

Back when John Lennon was still a budding musician, he started collecting stamps after he received a partially-filled album from his much older cousin, Stanley Parkes. Through the years, Lennon made an investment in filling up the book with stamps derived from letters sent from countries like New Zealand and the United States.
The album gives fans a glimpse of Lennon's unique childhood. It is apparent that his creativity and wanderlust were already developing by this time. The title page of the book even has a reprinted stamp plastered with King George VI and Queen Victoria. Young Lennon also showcased his cheeky side back then since he doodled a beard and a mustache on the images.
Ben Stiller's Star Trek Props

Actor, producer, and lovable comedian Ben Stiller is such a huge Star Trek fan that he even named his production company Red Hour Films taken as a reference to an episode from the popular series. He is also known to throw around some references in his movies like Zoolander and Tropic Thunder.
During the Academy Awards, the actor shared that he is a proud owner of a pair of Spock's ears that were signed by none other than Leonard Nimoy himself. The Star Trek actor sent the pair of ears to Stiller after finding out how big of a fan he was. The actor has been a huge fan of the science fiction franchise since he was a little boy. He also gives credit to his mother for bringing him to a convention back in the '70s.
Penelope Cruz's Coat Hangers

Oscar-winning actress Penelope Cruz acquired five hundred assorted styles of coat hangers. This gorgeous woman is no stranger to glitz and glamour but she sure does have a charming and simple hobby which is also very humble in every respect. The Vicky Cristina Barcelona actress can give credit to her years of working in the entertainment industry where she is showered with so many fashionable pieces. She probably enjoys organizing her extensive wardrobe.
She doesn't only pick random hangers that she can just pick from wherever. Her collection consists of items that come from all over the world. Common wire hangers don't even count as part of her collection. She is, after all, a woman of class and all things luxurious so we can credit her for that. Cruz definitely makes the idea of collecting coat hangers sound classy.
John Travolta's Airplanes

John Travolta is not only known as one of Hollywood's seasoned actors, but he's also pretty popular in the aviation industry since he owns numerous flying machines. His love for planes began as a young boy when he would gaze at the planes flying in and out of the airports with so much fascination.
Travolta was lucky enough to live near an airport. As he grew older, he became more well-versed about his favorite topic by reading books about airplanes. When he reached his teens, he got himself his first flying lessons. Eventually, he made an investment in his own plane when he was 20 years old, which was an Aircoupe – and this was before he became a car owner. At present, the crowning glory from his collection is his Boeing 707.
Rosie O'Donnell Happy Meal Toys

Celebrities don't always have to splurge on pricey things to find happiness. Take actress and host Rosie O'Donnell's cheap thrill for example. She enjoys collecting toys from the famous fast food chain McDonald's. Rosie even turned her office into a display room for her most precious collection. She began her hobby of collecting these toys just like any other kid out there and credits her initial interest in McDonald's 101 Dalmatians collectibles.
The only way to acquire these charming pieces was to purchase her own meals from the store herself, but when the company was informed about Rosie's love for their toys, they immediately sent her the complete collection. However, the talk show host did not stop there and quickly had her eyes set on another collection.
Dan Aykroyd's Police Badges

Actor and Saturday Night Live alum Dan Aykroyd is a bonafide police buff. The comedian always brings along a badge with him. He once starred in Dragnet and portrayed Sergeant Joe Friday. He even has a position in the advisory commission with police authority in Payne City, Georgia. Aykroyd is not only known for collecting police badges but he also cruises around in an Ontario Provincial Police motorcycle.
He even enjoys riding shotgun in squad vehicles. He sure does know his way around the law. No wonder the actor can have emotional investments in his police characters. He practically lives and breathes being part of the force, so handing police-related projects to him would sound ideal for any casting director.
Lou Ferrigno's Beanie Babies

It might come as a shock to know that the man who used to play the angry and green character Hulk actually has a soft spot for cute and tiny Beanie Babies. The TV icon and famous muscle man Lou Ferrigno has a vast collection of adorable stuffed toys. He does balance this out with his enthusiasm for antique air rifles and G.I. Joe figures, though.
The bodybuilder revealed having an old bookcase that stores more than a hundred of the famous and adorable collectibles instead of books. The muscle man's favorite from the collection is the special commemorative Beanie Baby for Princess Diana that was released way back in 1997. We have to give Ferrigno credit for being unapologetically adorable for having this type of hobby.
Jay Leno's Car Collection

Host and comedian Jay Leno is certainly living the dream with his extensive collection of swanky cars. His collection is not for people on a budget. Only famous folks like him have enough money and investments to even afford these expensive wheels. His impressive collection can make everyone's jaw drop; it has more than a hundred cars worth approximately $50 million.
His cars are safely housed in a custom garage larger than an average person's abode. At 14 years old, Jay purchased his first car. A few years later, he was able to get his driver's license and was able to acquire a huge assortment of car models. No wonder Jay Leno's garage is every car enthusiast's dream place to be.
Demi Moore's Doll Collection

Award-winning actress Demi Moore has a peculiar fondness for vintage dolls. She has around 2,000 dolls lying around her house. She even got these dolls their own insurance at a price point of $2 million. The gorgeous Ghost star has a collection that includes antique and porcelain dolls lovingly crafted by various artists from around the globe.
With the number of dolls she owns, the actress had to get a separate house built for them. The actress is also a huge fan of figurative art so she finds joy whenever she sees the dolls' little faces. Demi shares that the dolls have funny faces that are reminders to not take life too seriously and to cherish the importance of having fun.
Nicolas Cage's Comic Books

Back when he was still a budding actor, Nicolas Kim Coppola did not want to take part in the perks that come with being director Francis Ford Coppola's nephew. He wanted to make his own mark and decided to go by the stage name Nicolas Cage instead. His stage name did not come about randomly since he was an avid superhero and comic book fan. He got his stage name from his favorite Marvel superhero, Luke Cage.
When he made it big, Cage was able to acquire some rare and unique comic books such as Action Comics No. 1 published in 1938, which was the copy where Superman made his debut. Afraid of his own home security, Cage decided to auction off his Golden Age issues for more than a million dollars.
Brad Pitt's Furniture

Brad Pitt has already established himself as a Hollywood legend but he is also known for being an ardent patron for the arts, especially with architecture and design. Pitt has acquired a vast amount of furniture pieces that he even established his own line with popular architects and designers. The actor even has a sketchbook filled with various furniture designs that eventually came to life with some encouragement from friends.
He enjoys collecting contemporary and modernist furniture which are high-profile in every way. Pitt also has keen attention to detail where he makes sure furniture pieces made by him arrive at a perfect degree. He puts his passion and skills to a good cause through his Make It Right Foundation where he taps established architects to come up with affordable housing for the victims of Hurricane Katrina.
Quentin Tarantino's Board Games

Director Quentin Tarantino has been collecting board games for years. Initially, he wanted to collect lunch boxes but then got discouraged when he found out that they were too expensive to collect. He also considered purchasing dolls but then he figured that they might get too boring since he can't even play with them.
So he started a board game collection, which he gladly breaks down by genre. Tarantino describes the Dukes of Hazzard as a fine game to play. He also owns an impressive acquisition like Universe which he gives credit as the closest thing to the official 2001: A Space Odyssey game.
Jay-Z's Watch Collection

Being one of hip-hop's leading men entails you to have an impressive collection of the swankiest watches out there. Hip-hop recording artist Jay-Z is given credit as a watch connoisseur. He definitely deserves it since he's been producing hit records for decades. Over the years, he has been seen sporting almost everything from sleek models by Hublot and complicated designs by Richard Mille.
Jay-Z also proudly owns one of the most sought-after designs in the market, the Grandmaster Chime. The mogul was also spotted with a Patek Philippe piece on several occasions. He gets his swag on with an expensive Rolex perpetual calendar which is a one-of-a-kind piece that was crafted by the MVP of watchmaking, Franck Muller. Jay-Z owns cars, clothes, and properties but it is pretty clear that these luxury timepieces are closest to his heart.
Shaquille O'Neal Superman

Basketball star Shaquille O'Neal really shows his love for Superman by getting himself a mansion decked in every Superman design possible. Shaq's Florida mansion is situated near a large lake, and the house's facade has the iconic "S" logo emblazoned on it. Once you can get a closer glimpse of the house, a huge realistic-sized Superman statue will welcome you.
The athlete even had his mattress superimposed with the iconic superhero's logo. Superman's spirit is extremely felt around the athlete's game room, garage, and home theater. The master's bedroom even has a glass door with the Kryptonian logo. The symbol is also artistically draped on a huge mural in his home. Shaq definitely made investments to make sure his admiration for Superman is loud and clear.
Nicolas Cage's Castle and Dinosaur Skull

Acting legend Nicolas Cage is one of the top-earning celebrities in Tinseltown who is worth a fortune thanks for his work on numerous high-grossing projects. Cage is wealthy and has an obvious knack for all things eccentric. Put two and two together then you'll have yourself a castle and a 70-million-year-old dinosaur skull. When asked about his quirky acquisitions, Cage says he does not regret having them at all.
He shares that good investments come from a place of interest and the sheer joy of the history behind each item. Cage is no stranger to luxurious deals, too. Along with the many bizarre items he owns, Cage also has a high-class real estate portfolio. He is a proud owner of numerous mansions located in various places around the world.
John Mayer's Watch Collection

John Mayer is adored by many because of his talent for making smooth tunes and his tasteful collection of fashion-forward pieces. Mayer is actually given credit as a style icon, too. He has a good aptitude for fashion. Since he earns a fortune, he can spend it like the rockstar he truly is. When certain brands like Audemars Piguet found out about the musician's interest in their products, they immediately released an assortment of variations for the style John is really into.
The musician is often spotted sporting different types of luxury watches. He is also known to own a vast collection of classic pieces and funky colorful pieces, too. The Grammy award winner also has watches that are adorned with intricate and highly technical details that make each piece truly desirable.
Martin Scorsese

Film legend Martin Scorsese isn't just given credit for being a movie genius, he is also a big cinephile, too. MoMa even started a well-curated gallery that includes items from the award-winning director's personal movie poster collection. The prints inspired Scorsese in his successful career throughout the years. One of the items included in the gallery is The Tales of Hoffman print that is the size of a billboard.
He also owns a lot of art house posters from Europe. His collection also displays some rare Scorsese-owned items. For Scorsese, a person who grew up before the '80s considers posters as an integral part of going to the movies. Simply looking at a poster while walking through a lobby is an experience in itself.
Jerry Seinfeld's Porsches

World-famous comedian and producer Jerry Seinfeld is ardently passionate about Porsches. It is reported that the comedian has over forty various models of the luxurious sports car that is estimated to cost at $15 million. The Seinfeld star even shelled out over a million dollars to convert an old plumbing factory found in New York City into a two-story garage that can house numerous cars.
There are also rumors that mention some of the cars that remained are allegedly stored in a hangar in California. Some of his swanky sports cars that are part of the comedian's collection include a 1944 Porsche 550 Spyder, Porsche Boxsters, a Porsche 911S, and a Porsche 959. We can credit Seinfeld's comedic chops for getting him these pricey wheels.
Beyoncé and Jay-Z's Art

Beyoncé always shows electricity while she performs on stage and in music videos. The singer is a living piece of art herself. The Carters even performed at the Louvre back in 2018 to shoot a music video. Dancers in the video were prancing around famous masterpieces. Devoted fans of the diva would be delighted to know that Queen B is also famous for shutting down art museums to have private viewings.
Their family is also fond of posing next to beautiful and expensive art pieces which they then post on social media for their adoring followers. The power couple's favorite artist is probably Basquiat which is featured in Jay-Z's lyrics referencing the iconic painter. The rapper and producer purchased a Basquiat painting from 1982 with the title Mecca that was priced at $4.5 million.
You've Reached The End